Around 1065 AD Ratnadeva's first son Prithvidev sat on the throne. The son who was born to the queen Rajalla of Prithvidev was named Jajwalyadev. Jajwalyadev was a meritorious, mighty, visionary, and ambitious king. He defeated Chhetranagawanshi somewhere and spread his kingdom to Chitrakote (Bastar) Orissa, Swarnapur, and Midnapore of Bengal also won. Jajwalyadev name and fame spread all the way.
They separated themselves from the sovereign power of Tripuri. Made gold, copper coins, which got his name engraved on them. Made the figure of Raja Shardul and Hanuman. Later on, it became the emblem of the Kalkhuliris. Jajwalyadev had established the city of Jajwalyadev in his own name, which is now called Janjgir. There is also mention of a summit in the inscriptions and around the Amar Kunj. 
Raja Jajwalyadev renovated many temples, in which the Shiva temple of Pali is prominent.The Vishnu Mandir of Janjgir was built by him. The craft of this imperfect temple is worth seeing. Statues of Dashavatar are drawn on its walls. There is also a statue of eunuchs and women. Suryadev sits on the back of the western wall and above the temple are the statues of Bramha, Vishnu, and Mahesh.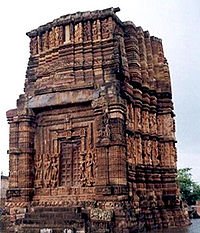 Vishnu Mandir Janjgir
Shiv Mandir Pali
The idol of Vishnu is situated in the midst of the Navagrahas. The temple stands incomplete and murtivihin dasha on the side of a huge Bhima talab. Probably incomplete construction is not due to the life of idols in them.
Second queen Ratnadeva was born from the womb of Lacchala to the queen of Jajwalyadev who sat on the throne in 1120. King Jajwalyadev did many promotional works during his tenure. Renovated temples, built ponds, step wells, wells, and got amrakuz in many villages and planted a variety of trees. In the name of such a great king, the government of Chhattisgarh has named the new girl college of the city as 'Jajwalyadev Naveen Girls College'.  
Around 1045 AD, the first Ratnaraja son of Kamalraj sat on the throne. He married Nonalla the daughter of Banju Varma and from here the influence of the Kalchuri dynasty was established in Chhattisgarh. Ratnaraja's son developed Manipur and gave it to Ratnapura and made it his capital. Ratanpur is Ratanpur in Bilaspur district.